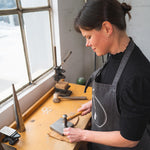 hilary's ethos
"I strive to create jewelry that is distinctive and authentic in design. It's important to me that your piece of Hilary Finck Jewelry embodies a unique character that resonates with you. Each piece is personally made by me ⏤ it is imbued with the spirit of someone who loves what they do, and just perhaps some vibrations from the music that was playing while I made it."


learn more about hilary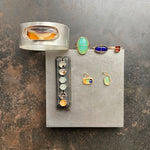 CAPTURED COLLECTION
What began with an unconventional way to set seashells found on the Northern California Coast into jewelry, Hilary's Captured Collection has evolved into a passion project with unique, handpicked gemstones taking center stage. With her signature crossbar, Hilary has created a new technique for setting stones that you will find nowhere else. Each piece is a one-of-a-kind treasure to last a lifetime.
View the Captured Collection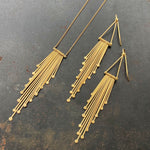 hand hammered collection
The Hand Hammered Collection is an expression of Hilary's love of metalsmithing. With an array of hammers and dapping tools, Hilary moves metal to create sculptural organic shapes and kinetic motifs. Hammering is not just a sculptural design technique, but it also gives the metal durable flexibility and strength. Hammering is essential to Hilary's designs and it means that each piece is handmade and carefully considered.
View the Hand Hammered Collection